Fill The Tipi Campaign
Native Americans have been part of Rodeo longer than Rodeo has been a part of the West.
Our Goal 10,000 lbs or Money
One Nation Walking Together is a fantastic Non-Profit that collects goods and raises awareness for Native Americans across the USA.
The needs are vast on the reservations.  Suicide, Hunger, Lack of Hygiene Products and Safe Water are all a reality right here in the USA.
You can help our brothers and sisters by bringing non-perishable goods to the Rodeo.  Donate on line or purchase a sticker packet to provide for these folks.
The administrators at one nation are saints and have earned our support.
Hands on Project, Ti-Pi construction demo!
Free of charge, but donations to One Nation are always welcomed.  Take your picture while building the Ti-Pi, send the picture in with a donation, we will post pictures on the website.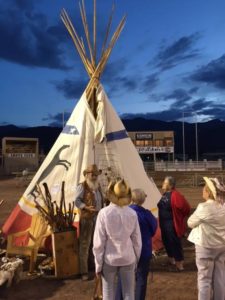 Donate now!
Support One Nation directly here--