Tickets
Click button for direct link to ticketing site, For more information please call (719)578-0935
Tickets to the COS Rodeo can be purchased online, by phone or at the door.  Advanced purchase closes at noon on Wednesday.
Guest can save a few dollars on Adult tickets by purchasing in advance.  While purchasing online you will be redirected to the ticketing website though Adventures Out West.
Some events, such as mutton bustin'  have additional fees associated with them, you will find those prices below.
Group ticket pricing is available.  Call our office for details. (719)578-0935
Advanced Purchase before noon on day of Rodeo.
Rodeo Ticket Adult $22.00
Rodeo Ticket Child $12.50  (2-12)
Dinner Ticket $15.00 (kids $7.50), must have rodeo ticket
S'more experience $8.00 (Family Pack- 8 S'mores)
At The Gate Purchase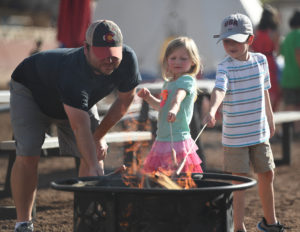 Rodeo Ticket Adult $25.00
Rodeo Ticket Child $12.50
Dinner Ticket $18.00 (kids $9.00)
S'more Experience $10.00 (Family pack- 8 S'mores)
Also please pre-register for any rodeo events you or your family would like to participate in.
Call the office to secure a spot, you may pay in advanced or at the door.  Spots are filling up fast!
Calf Scramble/ Ram scramble -Free, two waves (ages 5 and under, and ages 6-11)
Mutton Bustin' –$20.00 (under 50 lbs)
Team sorting- $20.00 (teams of two)
Steer Riding- $25.00 (ages 12-18)
Barrel Racing $40.00 (all ages, must have your own horse)
Saddle Bronc –$50.00 (Professional only)
Bull Riders- $50.00 (Professional only)
Weather– Rain in Colorado is short lived and not likely to last long. In the event of questionable weather dinner trays will be provided so guests can eat in the covered grandstands and still enjoy the show.  THE SHOW MUST GO ON!!!!!!!!!!!
Tickets
Click button for direct link to ticketing site, For more information please call (719)578-0935